andybell
established user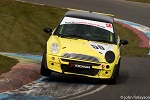 Joined: 16 May 2013
Posts: 1241



Never got round to this but thought it best to as usually get some questions as to why I do not upgrade and such like. So Caterham have recently redone their range but this is what would have been known as a Supersport. The plan was to race in the Caterham Graduate series which is http://www.graduates.org.uk under the sigmax class but not sure now due to £££. I did do one race this year at Oulton Park and the car was setup my McMillan Motorsports a Caterham only place hence why its rather nimble.

Anyway spec of car:



140bhp Ford Sigma engine which should give me a minute lap or just under by a fraction
5-speed gearbox
Plate-type limited slip differential
Wet sump oil system
13" Yokohama A048 medium compound (for wet I user A021 Yokohama)
Roadsport race specification suspension with Bilstein dampers
Full MSA compliant safety equipment - plumbed in fire extinguisher for engine bay/footwell
Fuel sampling kit
Minimum weight for championship with fuel+car+me=600kg which I make with some ballast
Pagid RS15 front brakes
Mintex M1144 rear brakes
AP Racing brake bias valve
AP Racing uprated brake master cylinder
braided brake hoses
lowered floors
aces shift light
Racelogic VBox Lite
OLED predictive lap timer for cockpit
1 main camera and a secondary camera for rear/cockpit
4 additional CAN Channel Unit
additional brake pressure, throttle and rpm position sensors




As the specification is a 'thing' that is used in both the Caterham & Graduates series upgrading means you use eligibility so best to keep as is rather than go the upgrade route.






Front Wheels


Rear Wheels


Cockpit

_________________
http://www.youtube.com/user/andybalcairn/ to see how bad I drive!!!