crayons
user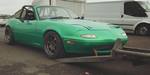 Joined: 06 Dec 2011
Posts: 126
Location: Aberdeen


My dad was over from Ireland for the weekend and we both had a great time splitting the driving duties. Having done a hot hatch track day previously I have to say I really enjoyed the open pit type day. I don't think we gave the Mazda a moments rest and got very close to hitting the 100 lap mark for the day without any complaints from the car.

I even managed to knock a second off my fastest time, probably mostly gained from the first corner. It was also nice to see the Mazda being able to hold its own against some other SMRC cars that were there on the day like the minis, compacts and fiestas.

I will definitely be keeping an eye out for some of the trackscotland days next year.